Welcome To River's Edge Yoga
River's Edge Yoga Center, one block from the river in Old Town Alexandria, is a cozy yoga oasis dedicated to the teaching of yoga in the classical tradition.
We offer Ashtanga Vinyasa Yoga, both the Primary and Intermediate Series and Mysore along with Yoga For Athletes, Yoga Sage a therapeutic approach to Yoga, Vinyasa Flow, Pre and post natal yoga,Yoga Tales for the younger set, Ballet and Barre.
"He who binds to himself a joy doth the winged life destroy, but he who kisses the joy as it flies, lives in Eternity 's sunrise"
William Blake

Announcements
We will be offering an altered schedule of classes at the studio over the week of August 20th – 26th. My father is quite ill and I must fly out to San Francisco to be with him.
Monday August 20th
11:00 am Ashtanga Short form
12:15 pm Yoga for Lunch Flow
4:30 pm Yoga Happy Hour
5:30 pm Yoga Basics
6:45 pm Ashtanga Led Primary Series.
Tuesday August 21st
Classes canceled
Wednesday August 22nd
6:30 pm Yoga for Athletes with Guest Teacher Dina Ramon.
All other classes canceled
Thursday August 23rd
All Classes canceled
Friday August 24th
All classes canceled.
Saturday August 25th
All classes Canceled
Sunday August 26th
10:45 Yoga Basics
11:45 Yoga for Athletes.
I apologize for the disruption and I thank all within our studio community for your understanding and for your support of the studio.
Community News
Free yoga in the Fresh Air will take place every Thursday in Montgomery Park 6:00-7:00pm with guest teachers from the Virginia Yoga Week Studios and Concerts will be held at the Montgomery Park Gazebo every Third Thursday of July, August and September.
Montgomery Park – The Gazebo
901 N. Royal St.
Alexandria, VA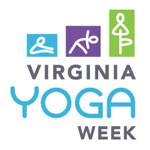 Virginia Yoga Week continues through June 25th but… The yoga love continues through til Fall with the Be Well Virginia Summer Wellness Campaign.
New Students
"No man can step into the same river twice, for it is not the same river, and he is not the same man."
Heraclitus