Welcome To River's Edge Yoga
River's Edge Yoga Center, one block from the river in Old Town Alexandria, is a cozy yoga oasis dedicated to the teaching of yoga in the classical tradition.
We offer Ashtanga Vinyasa Yoga, both the Primary and Intermediate Series and Mysore along with Yoga For Athletes, Yoga Sage a therapeutic approach to Yoga, Vinyasa Flow, Pre and post natal yoga,Yoga Tales for the younger set, Ballet and Barre.
"He who binds to himself a joy doth the winged life destroy, but he who kisses the joy as it flies, lives in Eternity 's sunrise"
William Blake

11th Annual Virginia Yoga Week
We are delighted to be participating in Virginia Yoga Week 2018 June 18th-June 25th and the Be Well Virginia Summer Wellness Campaign… a celebration of Yoga throughout the Commonwealth. Take a breath Virginia… Virginia Yoga Week is in the air…
Classes
Mon, June 18: 5:30-6:30pm Yoga Basics (Free Class)
Tue, June 19: 4:30-5:30pm Yoga Happy Hour (Free Class)
Wed, June 20: 6:30-7:45pm Yoga for Athletes (Free Class)
Thu, June 21: 12:15-1:15pm Ashtanga Short Form (Free Class)
Fri, June 22: 12:15-1:15pm Yoga for Lunch (Free Class)
Sat, June 23: 12:00-1:15pm Open Level Flow (Karma Class)
Sun, June 24: 10:45-11:45am Yoga Basics (Free Class)
Mon, June 25: 11:00am-12:00pm Yoga Basics (Free Class)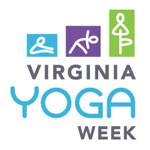 Summer Solstice Celebration at Montgomery Park. Our Free Yoga in the Fresh Air and our Third Thursday Concert on the Green begins on June 21st with our Summer Solstice Celebration in Montgomery Park Pavilion. Shop the Farmer's Market, do some yoga, and stay to listen to some great music. Yoga starts at 6:00pm. Dave Lange with Hill Country Blues is performing for us at 7:00pm.
On June 23rd our Karma Class* will benefit YoKid, The Carpenter's Center for Homeless Families and Odenadi. Pay what you can, suggested donation $20. All proceeds benefit the three charities.
My thanks to all within the River's Edge Community for their continued support of the studio.
New Students
"No man can step into the same river twice, for it is not the same river, and he is not the same man."
Heraclitus