Welcome To River's Edge Yoga
River's Edge Yoga Center, one block from the river in Old Town Alexandria, is a cozy yoga oasis dedicated to the teaching of yoga in the classical tradition.
We offer Ashtanga Vinyasa Yoga, both the Primary and Intermediate Series and Mysore along with Yoga For Athletes, Yoga Sage a therapeutic approach to Yoga, Vinyasa Flow, Pre and post natal yoga,Yoga Tales for the younger set, Ballet and Barre.
"He who binds to himself a joy doth the winged life destroy, but he who kisses the joy as it flies, lives in Eternity 's sunrise"
William Blake

Hosting a Memorial Day Karma Class
River's Edge Yoga hosts a Memorial Day Karma Class to benefit Be Well Virginia/Virginia Yoga Week featured charity, YoKid. Monday, May 28th, an open level flow class to open the hips and the heart. 10:30 am. Pay what you can, suggested donation $20. All proceeds to benefit
YoKid.
11th Annual Virginia Yoga Week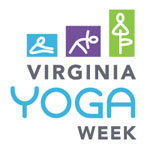 A celebration of mind, body and spirit. Take a breath Virginia… Virginia Yoga Week is in the Air… June 18th through June 25th.
River Edge Yoga is honored to be a Sponsor of Virginia Yoga Week.
Class Announcements
By popular request we will be offering Chair Yoga Class in May, beginning May 7th. Chair yoga allows students to experience the benefits of yoga without placing undue strain on the joints. Monday 11:00am- 12:00pm.
The next Adult Beginner Baller Enrolled Session will begin Monday, April 30th. Six weeks for $78 April 30th through June 11th. Class will not meet on Monday, May 28th.
Down Dog 101 – next session starting soon!
The perfect introduction to yoga for the true novice, or those returning to the mat after time away due to injury or life.
Five weeks for $50.00
The Ashtanga Basics has been postponed.
Additional details coming soon.
New Students
"No man can step into the same river twice, for it is not the same river, and he is not the same man."
Heraclitus